Our Purpose
THE VESTED GROUP EXISTS TO FACILITATE SUCCESS FOR OUR TEAM AND OUR CLIENTS
If you are thinking about working with TVG, this is the perfect place to start!
Flip through our Culture Brochure below to get an idea of what working with The Vested Group is all about, and learn about what makes us unique:
Our Core Values
Our six Core Values not only define who we are but what we look for when adding to our team. We acknowledge and celebrate these qualities in each other on a daily basis. Whether you are a prospective client or potential employee, take a minute to read through our Core Values listed below and discover what makes us The Vested Group.
All In – Find your inner "Rudy", be 100% committed to the team, and bring your "A" game every day. Participate in our unique culture and don't be afraid to show some swagger –you've earned it! Stay engaged and you'll be figuratively carried off the field on the shoulders of those that are proud to share in your success!
This is where the magic happens - The Vested Group office!
Click and drag to have a look around (may not work on mobile devices).
Own It – Step up to the plate! Embrace and accept every challenge that comes your way as if it was created just for you. When things don't go your way, own up and take responsibility for your actions – you'll build character and earn respect in the process. Accept praise, but stay humble…accept criticism, it keeps you humble.
Give Them Your Shirt – It's not just about putting others above yourself and treating them how they (and you) want to be treated. That's clearly important, but it's also about being mindful of your surroundings and actively finding ways to give, whether that be to your fellow colleagues or to the community. How about giving people the benefit of the doubt sometimes? You'll find it rewarding and less stressful. Remove gossip and politics from the environment and focus on the positive traits of our team while building each other up.
Always Do the Right Thing – Mama always said to make good choices and do the right thing. Integrity is doing the right thing at all times and in all circumstances, whether or not anyone is watching. It takes guts, so be bold and courageous! Make Mama proud.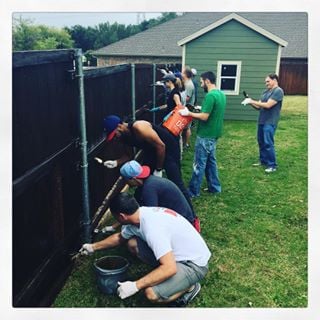 Appreciate that Failure Results in Learning – Winston Churchill once said, "Success is stumbling from failure to failure with no loss of enthusiasm." Don't let your mistakes define you, instead, learn from them and keep moving forward. Keep learning and strive for excellence.
Enjoy the Ride – Work hard, play hard! Enjoy the rewards of your diligence. You've earned it. Life's too short to take yourself too seriously. There will be ups and downs on this roller coaster we call life, so throw your hands up and enjoy the ride!
Meet Your Team